Rainer Werner Fassbinder: A Baby Caligula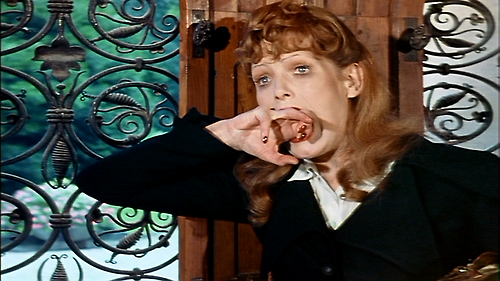 Rainer Werner Fassbinder (1945–82), hard-living, frenetic (libertine, bourgeois-scourging) New German filmmaker would have turned sixty-seven today, had he survived even into his forties. Strong-armed by the influence of Brechtian theater and Jean-Luc Godard's Weekend (1967), Fassbinder went on to direct forty films and made-for-television performances—though like the Frenchman L. J. M. Daguerre and the American John Waters (puppet theater), Fassbinder's background was the stage, and it showed. His early work is marked by a static camera and dialogue not conceivably of this world; he goes on the record in a piece later reprinted for Cineaste, where he states:
"I would like to build a house with my films. Some are the cellars, others the walls, still others the windows. But I hope in the end it will be a house."
To watch a Fassbinder film is to participate, if only through mediation, in the tailwinds of the director's cultural persona, his bad-boy whipping-up of a post-fascist, prejudicial German zeitgeist. To cogently locate him politically, and to infer his contributions to post-war, avant-garde cinema nearly three decades after his death, is a bit trickier.
Coincidentally, it was almost thirty-eight years ago to the day that Fassbinder's Martha premiered on German television. Martha was the film Fassbinder completed immediately prior to Ali: Fear Eats the Soul (perhaps his most acclaimed production), though it was initially released in the aftermath of that film's successes. Shot entirely on 16mm, and dealing with typical themes for the director (the fascist undertones of traditional family structures, physical and emotional paralysis, sadism, hysteria, dead cats, obsession, exceedingly banal-yet-mortified facial expressions), it was Martha's DVD-release in 2004 that first allowed the film to reach many American audiences.
Never one to shy away from controversy, longtime critic and blogger Jonathan Rosenbaum took on the film—and Fassbinder—in "Martha: Fassbinder's Uneasy Testament," featured in his 2010 collection Goodbye Cinema, Hello Cinephilia: Film Culture in Transition, which collects some of Rosenbaum's most discriminating pieces from the past four decades, including several like this one, which focus on newly circulating releases and other developments of the digital age.
An excerpt from Rosenbaum (where Rosenbaum calls-out Fassbinder's Andy Warhol-qua-John Belushi schtick) follows below: